About a month ago MattRichWarrenpresented us with his Buffalo Bills 2000s All-Decade Team series.  And for about a month we voted on a series of poles to determine who was worthy of being on that team.  But more often than not we also ended up complaining over the limited sometimes horrible talent that we had to pick from for any given position.  So it was about at the TE position that I thought "hey why don't we also vote on the worst players that played for this team over the last decade?"  And so here we are.
Now just like MattRichWarren'sseries I have a few criteria for players to be eligible for this team.  They had to have played in at least a full season's worth of games in this decade to be eligible.  Starting is not requirement, but you do have to have played significant amounts of snaps in those games.  That means that, for example, the Bills3rd receiver might make the list, but a 4th or 5th stringer wont be considered.  That means that we wont end up voting for 7th rounders that ended up playing 2 snaps.  These are going to be real players that played real roles on this team over the last ten years.  And just because a player ended up on the All-Decade team does not mean that you can't also be on the worst-decade team.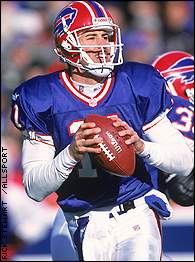 First up the QB position.  Now this has been a position that has been covered in awful ever since the team let Doug Flutie go to free agency in 20, some would even argue that it's been since Jim Kelly's retirement.  So needless to say, we have no lack of options for this vote.
Now these players are named in order of when they played for the Bills, and not in order of how much they sucked.
Rob Johnson
Johnson was drafted in the 4th round in 1995 by the Jacksonville Jaguars.  And after a good season as a backup for the Jags in 1997 the Bills trade a 1st and a 4throunder for him.  In this decade Johnson played for the Bills in 2000 and 2001, participating in 21 games, while starting in 20.  He had 522 attempts with 309 completions that were good for 3590 yards.  He also had 17 TD's and 14 INT's.  In those games Johnson also led the Bills to a lowly 5 -14 record.  The Bills  let him walk after the end of the 2001 season.  By the end of Johnson's Buffalo career, he earned both enviable and dubious Bills career records. Johnson boasts both the best completion percentage and the worst sack-to-dropback ratio in Bills history. Johnson's reluctance to throw the ball away earned him the nickname "Robo-sack."
J.P Losman
Drafted in the 1st round of the 2004 draft.  He sat the bench for the first year, backing up Drew Bledsoe.  He then went on to start games in the next 4 seasons for the Bills.  He had 941 attempst for 558 completions and 6211 yards.  He had 33 TD's and 34 INT's and a 10-23 record.  The Bills let him walk in favor of QB Trent Edwards at the end of the 2008 season.
Trent Edwards
Edwards was drafted by the Bills in the 3rd round of the 2007 draft.  He started games in 2007 after J.P. Losman went down to injury and continued to fight him for the team's starting job until the end of the 2008 season, a fight which he won.  He went on to lose his starting job to Ryan Fitzpatrick in 2009.  He had 826 attempts for 506 completions and 5,498 yards.   Those went for 24 TD's and 25 INTs.  He also amased record of 14-16 for the Bills.  Edwards is still on the team right now and has a shot of regaining his starting job with the arrival of new head coach Chan Gailey.
Exclusions: Drew Bledsoe and Ryan Fitzpatrick.
Bledsoe is excluded from this poll for having the Bills only winning record this decade, as well as setting new team records.  Fitzpatrick for the fact that he has not participated in a season's worth of games for the Bills and only became the Team's starter after the Bills fired Dick Jauron.