About a two and a half months ago MattRichWarren presented us with his Buffalo Bills 2000s All-Decade Team series.  And for about a month we voted on a series of poles to determine who was worthy of being on that team.  But more often than not we also ended up complaining over the limited sometimes horrible talent that we had to pick from for any given position.  So it was about at the TE position that I thought "hey why don't we also vote on the worst players that played for this team over the last decade?"  And so here we are.
Now just like MattRichWarren's series I have a few criteria for players to be eligible for this team.  They had to have played in at least a full season's worth of games in this decade to be eligible.  Starting is not requirement, but you do have to have played significant amounts of snaps in those games.  That means that, for example, the Bills 3rd receiver might make the list, but a 4th or 5th stringer wont be considered.  That means that we wont end up voting for 7th rounders that ended up playing 2 snaps.  These are going to be real players that played real roles on this team over the last ten years.  And just because a player ended up on the All-Decade team does not mean that you can't also be on the worst-decade team.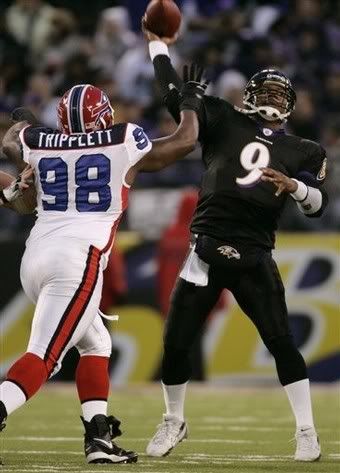 McBusto won the first round of DT's, yet we're still left wit a "rich" pool to choose from.  Time to vote for DT2.
Shawn Price
Signed away from Carolina in 1996, Price spent most of his time as a DE in the Bill's 3-4 D.  But he called upon to be a starter at DT when we made the switch to the 4-3 in the 2001 season.  In that season Price played in 11 games and started all of them.  He had 49 tackles, 2 sacks and 1 pass defended.  Not bad considering it was the first time he played DT since college.  It still wasn't good enough for the Bills to want to keep the aging lineman though as the team let him walk after the 2001 season.  He went on to play one last season at DE for the Chargers before retiring after the 2002 season.
Ron Edwards
Drafted by the Bills in the 3rd round of the 2001 draft, Edwards spent 5 injury riddled seasons with the Bills, most as depth on the DL.  But he did spend the 2002 campaign as the Bills starter opposite Pat Williams.  In his 5 seasons with the Bills Edwards played in 48 games, starting 25 of them.  He had 83 total tackles, 7 sacks, 1 pass defended, 3 forced fumbles and 1 fumble recovery over those 5 seasons.  The Bills let him walk after the 2005 season and he went on to spend the last 4 years of his career in Kansas City.
Tim Anderson
Another 3rd round draft pick of the Bills, this time in 2004, Anderson played in parts of 4 seasons in Buffalo.  In that time he played in 38 games, starting in 17 of them.  He had 77 total tackles, 1 sack and 4 passes defended.  He was released by the Bills 4 games into the 2007 season.  He went on to play 5 more games for the Falcons that season and hasn't played in the NFL since.
Larry Tripplett
A second round draft pick of the Colts in 2002, Tripplett signed with the Bills in the 2005-2006 off season as the Bills thought that his knowledge of the Cover 2 Defense might help Dick Jauron transfer the team to the Cover 2.  They were wrong.  Tripplett spent two seasons in Buffalo, playing and starting all 32 games for the team.  In those games he had 68 total tackles, 1 sack, 8 passes defended, 2 forced fumbles and 2 fumble recoveries.  Tripplett was released by the Bills during the 2007-2008 off season after Kyle Williams had made his value to the Bills clear and the team traded for Marcus Stroud.  Tripplett never played in the NFL again, but had a failed try-out with the Seahawks.  He can currently be seen playing for Orlando in the UFL.
Go ahead and vote!
Previous instalments: QB, RB, FB, WR1, WR2, TE, OT1, OT2, OG1, OG2, C, STs, DT1