With all of the good things that happened this week (CJ, the o-line play, five sacks, pumpkin beer in stores) it seems like Leo's dazzling return hasn't gotten too much attention. I took a look at the All-22 to see just how it happened and I was a little bit surprised. Sure, there was some pretty good blocking, but it was a pretty remarkable individual effort. Game film after the jump.
Here is what you need to know. Leodis beat six guys on his own. Let's take a look at how it happened.
First, he beat the KC gunner coming down the right side of the field. Stephon Gilmore had lone responsibility for blocking him (compared to the two on one coverage on the left side of the field) and was able to give him just enough of a shove that KC player had to dive at Leo's feet, and Leo was able to high-step through.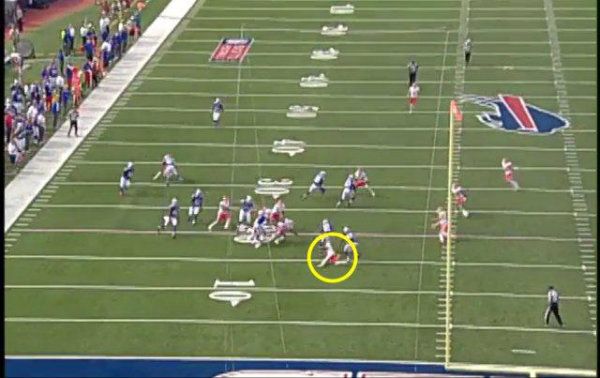 Next up, the most impressive move of the return - breaking through three tackles on his own. As you can see from the sideline angle just before the next set of contact, three Chiefs players were converging totally unblocked: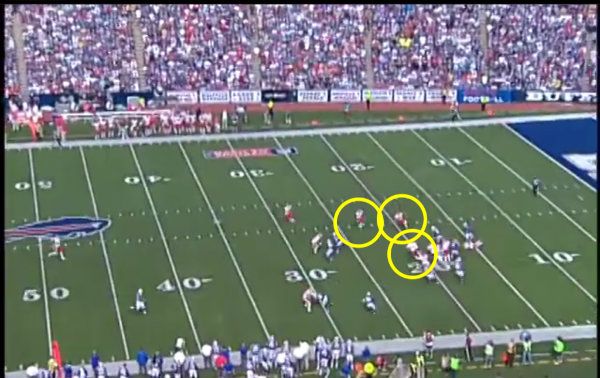 This should have been the end of the return, but again, Leo broke through the tackles and the Chiefs players ended up bouncing off of him and in to each other: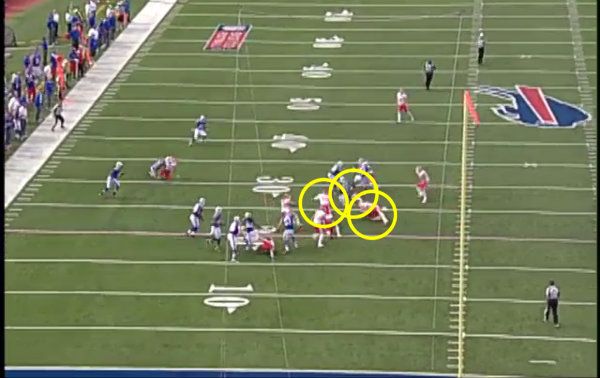 This next image is my favorite. It shows Leo breaking the last tackle, but you also see the wake of KC players strewn out behind him. Again, it's not like Leo had a clear lane up the sideline with a wall of blockers, he just made guys miss or bounce off of him:
Finally, it's just the punter to beat and Leo takes it to the house:
Here's hoping to many more of these in the coming season.
The NFL promotes sharing of these images (via their iPad app) but to make this easier for the mods to leave up, I'll add the language the NFL includes in their app e-mails when you send them out: Check out my Coach Tape drawing using the NFL Game Rewind iPad app! You can check out Game Rewind for yourself at: https://gamerewind.nfl.com.