Lovie Smith Makes the Most Sense of Any Candidate as Buffalo Bills Head Coach...
Smith is considered one of the two or three best head-coaching candidates available on the market (a list that includes former Eagles head coach Andy Reid and current Oregon Ducks head coach Chip Kelly), and while Kelly wouldn't be a bad choice, Smith is the best choice.
The fact that he has already expressed interest means the Bills would have to royally screw it up to not land him by any means other than simply not wanting him as their coach—and they'd have to be crazy not to want him.
His accomplishments alone have built enough of a resumé to make him a prime candidate: Smith went 81-63 in nine years with the Bears, and had five winning seasons. In three playoff appearances, his team went to two NFC Championship Games and went to Super Bowl XLI.
Perfect fit for the bills.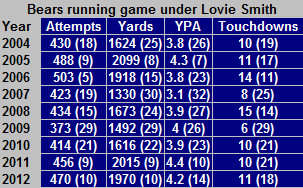 We took umbrage with the team's misuse of C.J. Spiller and will be happy to know that the Bears have ranked in the top 10 in rushing yards in three of Lovie's seasons, and have ranked in the top 10 in rush attempts in four of his seasons.
He saw running backs Thomas Jones, Cedric Benson and Matt Forte have the best years of their career, and all earned nice paydays for their play under his watch.
To be fair, his offenses have not been among the league's best—in fact, not once have the Bears finished better than 15th on offense under Smith—but a good offensive coordinator would help prevent that from becoming a problem (Mike Martz and MikeTice don't exactly fit the bill there).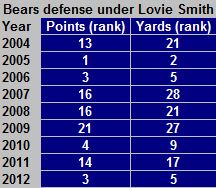 Where Smith's impact will be felt most is on defense. The Bills have already used a lot of resources on the defensive side of the ball, with two first-round picks over the past two years in cornerback Stephon Gilmore and defensive tackle Marcell Dareus, and big-name free agent acquisitions in linebacker Nick Barnett, defensive ends Mark Anderson and Mario Williams.
They are built for a 4-3 defense, and they have a lot of untapped potential on defense. Smith's familiarity with the 4-3 would mean a seamless transition, and it could help to bring out the best in Buffalo's defense.
Yet right now, the Bills seem more interested in looking at former Cardinals head coach Ken Whisenhunt and his staff of assistants (including defensive coordinator Ray Horton and offensive line coach Russ Grimm).
The Bills have built a reputation of buying low on assistants and coordinators turned first-time head coaches, and although Russ Brandon indicated the Bills would go all-in for the best head coach available, we were reminded that we've heard this song before... Theres no good reason to choose anyone but Lovie Smith. I would love to have Lovie as a head coach and try to get the Broncos Offensive Coordinator, draft Tyler Wilson... and playoffs here we come.