I was listening to "Wonder Boy" by Tenacious D on my way home from work last night, and for whatever reason it made me think of dearly departed Kiko Alonso.
OK, not "whatever reason". That's a lie. It was this lyric: "What kind of powers you ask? I dunno. How about the power of flight? That do anything for you? It's levitation, holmes."
That line reminded me of this fantastic play from the Cleveland game:
via cdn.fansided.com
Which got me bummed, yet again, about not getting to see him this season.
Since we are being robbed from being able to absorb all things Alonso in 2014, I figured, why not relive some of his best moments from 2013 in gif form? I mean, who doesn't like gifs? That's half the reason you're hanging out at SBNation in the first place.
So, without further ado, why Kiko Alonso is the greatest thing to happen to the Buffalo Bills this decade:
via usatthebiglead.files.wordpress.com
While you can't really see him here, Kiko recovered that fumble. Plus, who doesn't enjoy watching Tom drop the ball at the goal line? via img.gawkerassets.com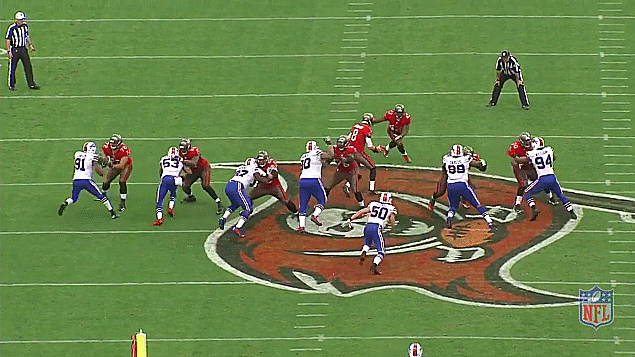 Come back soon, Kiko...