Former Bills WR Jerry Butler (photo source)
WR Jerry Butler (1979-1986) | 6'0", 178 lbs.
Notable Achievements: 1979 AFC Rookie of the Year, 1980 Pro Bowl
Jerry O'Dell Butler was born October 12, 1957 in Ware Shoals, South Carolina.  After a solid career at Clemson, where he was best known for "The Catch", Butler was selected by the Bills with the No. 5 overall pick in the 1979 NFL Draft.  His impact was immediate, and he would spend his entire 7-season NFL career in Buffalo.  Best known as a deep threat and one of the best athletes to play WR for the Bills, his career never lived up to the promise he showed coming out of Clemson, partially due to a rash of leg injuries he would sustain.  Despite the expectations and injuries, Butler still had a very solid career in Buffalo.
Career Highlights
As a rookie, Butler made his presence felt for the Bills.  He went on to win the 1979 AFC Rookie of the Year award, mostly due to one record-breaking game - his fourth as a professional.  In that game - which took place on September 23, 1979 - Butler grabbed 10 passes for a team record 255 yards and four touchdowns.  The 255 receiving yards remained a single game franchise record until Lee Evans broke it with his 265 yard day against the Houston Texans in 2006.  Four touchdowns remains a team record, matched only by Don Beebe in a 1991 game against Pittsburgh.  Butler quipped after the game, "What happened was too wild to dream about."
After his successful rookie campaign, Butler had arguably his best season as a pro in 1980, being recognized with a Pro Bowl selection at season's end.  He finished with 57 catches for 832 yards and 6 touchdowns.  His 1981 season was perhaps better, as he finished with 55 catches and career highs in yards (842) and touchdowns (8).  He was well on his way to another great season in 1982, but it was cut short by a work stoppage.  After another promising start, his 1983 season would end in a much more painful manner as he injured his right knee in the ninth game against New Orleans.  He missed the rest of the season, and the first place Bills ended up missing out on the playoffs.  The knee injury would cost him the 1984 season as well.  The injury was so bad, Butler thought it might cost him his career: "I don't want to go out of the game this way, out the back door. There's some concern. The Good Lord willing, I'll be able to play again." 
Butler would come back in 1985, having another productive season finishing with 41 catches for 770 yards and two touchdowns, but he was never the same player.  The Bills would finish 2-14 that year, and Butler had seemingly passed the torch to a hot shot rookie named Andre Reed.  The following season saw the arrival of Jim Kelly and renewed optimism from Butler about having a productive season.  A solid start gave way to a struggling offense and the firing of Hank Bullough.  With the hiring of Marv Levy, Butler and the offense again saw the potential for big things.  It wasn't meant to be, however.  Just a few games after Levy's arrival in Buffalo, Butler went up to catch a touchdown against the Dolphins, but came down awkwardly, shattering his right ankle.  He would never play again.  After four surgeries and a season on IR, Butler retired.  If his final play was any indication of his toughness, Butler hung on for the TD despite the broken ankle.
Other Honors
1981 and 1982 Buffalo Bills "Man of the Year"
1983 Jackie Robinson Award from the Buffalo and Erie County YMCA
Inducted into Clemson Hall of Fame in 1986
Clemson Ring of Honor
Inducted into South Carolina Athletic Hall of Fame in 1997
Parting Shots
Joe DeLamielleure on Butler:
"He'd make five or six catches and would win the game on his last catch. He was one of the first really smooth and extremely fast guys that could run, jump and catch. Most of the guys could run, but not catch or jump and catch. He could do it all."
Butler's career ended with many Bills fans wondering "what if," but when healthy, he was a productive and successful WR for the team.  He remains in the Top 10 of most of team's all-time receiving categories.  His 15.5 yards per catch was a testament to his speed and big play ability.
Currently, Jerry Butler works as the Director of Player Development for the Cleveland Browns.  He and his wife, Paula, reside outside Cleveland with their two children. 
Career Stats
88 games, 80 starts
278 receptions (No. 10 on all-time Bills' list)
4,301 receiving yards (No. 7)
29 touchdowns (No. 6)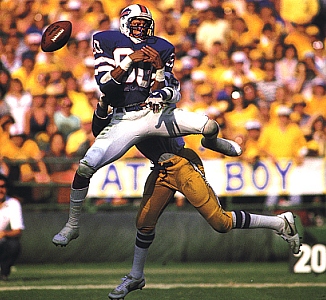 Photo Source