LB Bryce Paup (1995-1997) | 6'5", 247 lbs.
Notable Achievements: 3-time Pro Bowler with the Bills, 1995 NFL Defensive Player of the Year, 1995 First Team All-Pro
Bryce Eric Paup was born February 29, 1968 in Jefferson, Iowa.  Paup had a decorated career at the University of Northern Iowa, where he was named a team captain twice, earning All-Conference honors three times (second team in 1987, Honorable Mention in 1988, first team in 1989), earning Second Team All-American honors in 1989, and being named a member of the Gateway Conference's All-Decade team.  He was also inducted into the UNI Athletics Hall of Fame in 2001.  After his stellar college career, Paup was selected by the Green Bay packers with the No. 159 pick (Round 6) of the 1990 NFL Draft.  He made the Packers due to his versatility, proving capable of playing inside linebacker, outside linebacker, and defensive end.  He would spend five seasons in Green Bay, accumulating 32.5 sacks and a Pro Bowl selection in 1994 before signing with the Bills as a free agent after that season.  He only played for the Bills for three seasons before moving on to Jacksonville for two seasons and finishing his career with a season in Minnesota in 2000.  Despite only playing three years in Buffalo, Paup had a major impact and put up some enviable statistics. 
Career Highlights
Arguably, Paup was the best free agent addition in team history, even with a short tenure in Buffalo.  In fact, Sports Illustrated named him the fourteenth best free agent pickup of all-time earlier this year.  The Bills offered him a 3-year, $7.6M contract to leave Green Bay; in what he would later call a "miscalculation", Packers GM Ron Wolfe let Paup leave without attempting to re-sign him.  Paup was bitter over that treatment and determined to prove the Packers wrong: "They didn't think I was that good. They thought I was feeding off Reggie (White)".  Luckily for Paup and the Bills, he came into a perfect situation for his talents.  After the 1994 season, Marv Levy hired former Broncos head coach Wade Phillips to run his defense.  Phillips brought with him an aggressive 3-4 defense, perfectly suiting Paup's skills.  Phillips had Paup line up over the tight end and rush the passer all game long, which proved to be a genius move.  For more information about Paup's first season in Buffalo and his family life, check out this old SI article.
Paup's impact was immediate and immense during the 1995 season.  Following a down year in which the team missed the playoffs for the first time since 1987, they needed a jolt from the defense.  Paup more than provided it that year, helping the defense move from No. 17 overall to No. 13, while nearly doubling the team sack total from 25 to 49.  He had a sack in the season opener against Denver, and didn't look back.  In Week 3, Paup sacked Colts QB Jim Harbaugh three times, added 14 tackles and forced a pair of fumbles on his way to his first of two AFC Defensive Player of the Week honors for the season.  He ended up with six multi-sack games, didn't go consecutive games without a sack all season, and was named the AFC Defensive Player of the Month for November.  Despite sitting out the season finale against the Oilers (and rookie Steve McNair), Paup finished with an NFL-leading 17.5 sacks rushing the passer opposite Hall of Fame DE Bruce Smith.  He also added an astonishing 126 tackles, a pair of interceptions, and three forced fumbles.  The Bills would return to the playoffs, defeating the Dolphins in the Wild Card round before falling to the Steelers in the Divisional round.  Paup was named the NFL Defensive Player of the Year and made the Pro Bowl for the second time.
More on Paup's illustrious, short-lived career with the Bills after the jump.
After his amazing season the prior year, big things were expected from Paup and the Bills defense in 1996.  Unfortunately, Paup injured his groin in Week 3 against the Steelers and it would bother him for the rest of the season.  He did actually have sacks in the three games after his injury, but he wasn't the same player he was in 1995.  He would end up missing four games late in the season, though he did enough to earn his third consecutive Pro Bowl berth.  Paup finished the season with six sacks and two forced fumbles.  His 1997 season was a bounce-back year for him, but the team struggled en route to a 6-10 record.  For the year, Paup ended up with 9.5 sacks and a pair of forced fumbles.  Once again, his season was capped by a Pro Bowl berth, making it four in a row, three with the Bills.  After the season, the Bills did not place the transition tag on him, allowing him the freedom to move on via free agency.  The Jaguars offered Paup a gigantic 5-year, $22 million contract to make him the second-highest paid linebacker in the league behind Junior Seau, which he quickly jumped at.  Reportedly, Paup was more than ready to move on:
Paup meanwhile had a platform in Jacksonville, and did not waste an opportunity to air out his feelings about Buffalo. Still stinging from a perceived misdiagnosis of his 1996 groin injury, and the Bills inability to advance in the playoffs during his tenure here, Paup pointed to the Bills offensive ineptness as a prime motivation for his departure.
Despite some potential hurt feelings, Paup left the Bills as one of the best pass rushers in franchise history.  The Bills have not had an explosive pass rusher like him since he departed for the Jaguars.  In fact, Brian thinks Aaron Maybin could be the guy we've been searching for since Paup left town.  Let's all hope that Maybin has the type of impact and pass rush ability that Bryce Paup gave us in his three seasons in Buffalo.
Currently, Paup is the head coach at Green Bay Southwest High School and serves on the Packers' board of directors.
Best Moment
Even with a monster 1995 season and three Pro Bowls, it's tough to remember any specific play where Paup stood out.  His best moment likely came in that amazing season when he compiled six total sacks against the Colts in two games.  He had three sacks in each game, propelling the Bills to a pair of six-point victories.
Parting Shot
Even though his time in Buffalo was short, Bryce Paup made his presence felt early and often.  He was one of the best pass rushers in team history and was a huge part of the Bills' successful transition to the 3-4 defense.  Although it would have been nice to see Paup and Bruce Smith paired together for more seasons, it was fun to remember what a great season Paup gave the team in 1995.  Outside of a few of Smith's top seasons, Paup had arguably the best season of any Bills defender in team history.  He will be remembered as one of the team's best free agent signings of all-time, and one of the few impact pass rushers we've seen in Buffalo.
Career Stats with the Bills
43 games
33 sacks (No. 6 in franchise history)
2 interceptions (No. 85)
7 forced fumbles (No. 8)
215 tackles unofficially (No. 33)
3x Pro Bowl Selection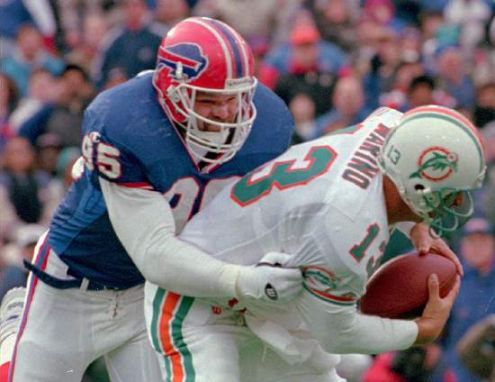 Bryce Paup voted Dan Marino as his most hated AFC East figure
Photo Source