RB Joe Cribbs (1980-1983, 1985) | 5'11", 190 lbs.
Notable Achievements: 3-time Pro Bowl Selection (1980, 1981, 1983), 1980 AFC Rookie of the Year
Joe Stanier Cribbs was born January 5, 1958 in Sulligent, Alabama. He stayed in-state and attended Auburn University, where he went on to have a tremendous career despite sharing time with future NFL running backs James Brooks and William Andrews.  He set numerous records as a Tiger, leaving school as the all-time leader in career rushes (657, now ranked second in school history), rushing yards (3,368, currently fourth), rushing touchdowns (34, currently third), rushing yards per game (88.6, currently sixth) and total points scored (216, currently seventh).  He established single season records with 1,205 rushing yards on 253 carries, 16 touchdowns and 120.5 yards per game in 1978 (all since broken). His seven consecutive 100-yard rushing performances remains an Auburn record.  Following his storied career at Auburn, the Bills selected Cribbs with the first pick of Round 2 (No. 29 overall) in the 1980 NFL Draft.  That pick was obtained from the San Francisco 49ers in the OJ Simpson trade a few years earlier.  Cribbs went on to start all 16 games in his rookie season, and would miss just one game over the next three years.  In his time with the Bills, Cribbs was a productive and elusive all-around threat out of the team's backfield.
Career Highlights
Cribbs quickly unseated Terry Miller and Curtis Brown as the starting feature RB in the Bills offense in 1980.  His impact was immediate, as both Cribbs and the team got off to a fast start.  The team started 5-0 while Cribbs scored a touchdown in each contest.  The opener against Miami was a fantastic game for Cribbs and the team.  Hoping to erase ten years of agony against the Dolphins, and a 20-game losing streak, the team came out pumped in front of the third largest crowd in team history.  Neither Cribbs nor the team disappointed that day, with the RB finishing with 60 yards rushing and 9 receptions for 71 yards.  To cap a successful start to his NFL career, Cribbs dove into the end zone from two yards out on a gutsy fourth down call from coach Chuck Knox to seal the game with 3:02 remaining, as the team would win it 17-7 and end the misery against Miami.  Cribbs went on to set a team records for a rookie by rushing for 1,182 yards and 11 touchdowns.  His 52 receptions were second on the team, while his 415 receiving yards was good for third.  He was named the AFC Rookie of the Year, and was the only rookie chosen to start in the Pro Bowl that year.
Cribbs' second season was nearly as good as his rookie year despite missing some action due to various injuries.  He only missed one game, but was dinged throughout the year, including during the team's Divisional Playoffs loss to the Bengals.  Although his final numbers were pretty good, Cribbs was somewhat inconsistent throughout the season.  He finished the regular season having rushed for more than 70 yards in a game just five times.  However, he had a couple of monster games that really proved his versatility.  Against the Colts in Week 5, Cribbs finished with 159 yards rushing.  The following week he added a 65 yard touchdown reception in a win over the hated Dolphins. His biggest game statistically came in Week 9 at home against Cleveland.  Cribbs rushed for a respectable 85 yards that day, but added a ridiculous 163 yards receiving and 3 receiving touchdowns en route to a Bills victory. He also added a 153 yard rushing day along with 48 receiving yards and a big touchdown in a win over New England in Week 15.  Cribbs had a successful postseason, rushing for 173 yards and 3 touchdowns in the Bills' two games.  For the year, he finished with 1,097 rushing yards, 40 receptions, 603 receiving yards and 10 total touchdowns, along with his second Pro Bowl appearance.
The 1982 season saw the beginning of the end for Cribbs, at least in terms of his relationship with the Bills.  He would remain with the team, but felt slighted by the franchise numerous times. In search of a new deal worth $3.47M over 5 years, the team only offered him a 4-year, $1.2M that spring.  Even then (and dating back to the 60's), Bills' owner Ralph Wilson was considered a cheapskate by many in the know including Bills' QB Joe Ferguson.  Cribbs went as far as calling the organization out:
"It's the little things that show the Bills are a no-class operation," Cribbs said last week. "I always have to give in."
When the season began, Cribbs was a no-show.  He held out through the first two weeks before the players walked off the job to strike.  Prior to the settlement between the NFL and Players' Union in early November, Cribbs decided to end his holdout to play under his current contract while taking his chances that offseason.  The Bills needed him, with his agent Dr. Jerry Argovitz saying it best:
"Without Joe Cribbs," argues Argovitz, "the Buffalo Bills are like an airplane without wheels—they can't take off and they can't land."
Despite all the angst over his contract situation, Cribbs had a great seven games that year, helping the Bills lead the league in rushing during the abbreviated nine-game season.  He finished the year averaging a league best 90.4 yards per game, and a career best 4.7 yards per carry, but the team missed out on the 16 team playoffs, like only the Bills could.
After his third successful season in Buffalo, Cribbs again was concerned about his contract, while the team had no desire to give him a new one.  He informed the team that he would not be returning following the 1983 season, instead choosing to sign a deal with the USFL's Birmingham Stallions which would beging play in 1984.  He played that 1983 season as a lame duck, yet had another excellent year, proving to the Bills he was one of the best all-around running backs in the league.  He finished the year with 1,131 rushing yards and 3 touchdowns, while also leading the team in all the major receiving categories putting up 57 catches for 524 yards and 7 touchdowns. He rushed for a career best 185 yards in a late season win over the Chiefs.  Once again, Cribbs was selected to the AFC Pro Bowl squad.
Three weeks before he was scheduled to report to the team's 1984 training camp, Cribbs informed the team he was signing his deal with the Stallions and taking his services to the upstart USFL.  The Bills were unsuccessful in the courtroom in trying to keep Cribbs in Buffalo, and just like that he was off to Birmingham. Cribbs was obviously upset with the team forcing his departure, at least on his terms, though he definitely felt a small sense of regret:
"If you truly understand the game and statistics, I was playing on a team where, basically, I was probably 60 to 70 percent of our offense at that time. I had guys who were backing me up that were making more than I was making. That was just total injustice. But the thing that I feel that I would have done differently is, I would have at least kept my doors open as opposed to just saying, 'Hey, okay, they don't want me. I'm leaving.' Then when they came back, I said, 'Nah, it's too late.' I would have done that differently" ~p.70, Then Levy Said to Kelly by Jim Gehman
Cribbs went on to lead the USFL in rushing during his two seasons as a Stallion, before the league folded.  Somehow, despite the previous hard feelings, Cribbs returned to the Bills for the 1985 season.  He split time with second year pro, Greg Bell, but just wasn't the same player he was before.  He finished the year with just 399 yards rushing and a single touchdown.  And just like OJ Simpson, he was traded to the 49ers,prior to the 1986 season. He was sent to San Francisco on August 19, 1986, just one day after the Bills had finally signed Jim Kelly.  Essentially, out with the old and in with the new.  He had moderate success in 1986 and 1987 before finishing his career with the Dolphins and Colts in 1988. 
Best Moment(s)
As discussed earlier, two of Cribbs best games came during his sophomore season against the Patriots and Browns.  His big game against the Chiefs in 1983 was his best individual rushing performance.  However, Chris Brown thinks his best performance came earlier in the 1983 season against the Oilers:
While it wasn't his best career rushing game, his 166-yard, one touchdown performance against Houston in 1983 ranked second in his Bills career as he averaged 7.5 yards per carry and outrushed Hall of Famer Earl Campbell (142). Cribbs helped Buffalo end a 10-game losing streak to the Oilers with their first win over Houston(30-13) since 1966.
Parting Shot
Joe Cribbs was obviously one of the most talented and successful running back in franchise history.  He played the game like Thurman Thomas would play it later in the 80's and throughout the 90's.  Personally, I wonder what may have been with Cribbs had he not left for the USFL to play a pair of seasons (Spring of '84 and '85), and take the extra punishment, while only missing the 1984 season in the NFL.  After being the second most successful runner in team history in just his first four years, Cribbs was never the same once he returned from the USFL.  His stubbornness and constant desire for a new contract left a bad taste in the the mouths of Bills fans everywhere, and probably hurt his legacy overall.  He should be remembered as one of the best runners in team history despite all the off the field disagreements.
Career Stats with the Bills
64 games, 58 starts
1,082 rushed (No. 3 in franchise history)
4,445 yards (No. 3)
21 rushing touchdowns (No. 12)
69.5 rushing yards per game (No. 6)
180 receptions (No. 13, No. 2 among RB)
1,783 receiving yards (No. 24, No. 3 among RB)
15 receiving touchdowns (No. 19, No. 2 among RB)
44 fumbles (No. 6)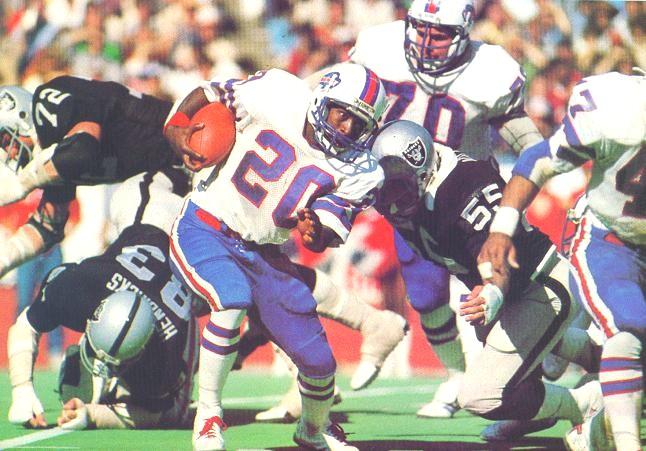 Former Bills RB Joe Cribbs
(Photo Source)