Steve Christie (1992-2000) | 6'0", 195 lbs.
Notable Achievements: Bills' All-Time leading scorer, longest field goal in Bills history (59 yards), longest field goal in Super Bowl history (54 yards in SB XXVIII)
Geoffrey Stephen Christie was born November 13, 1967 in Hamilton, Ontario.  He grew up in nearby Oakville, Ontario, a mere 90 miles from Orchard Park.  Following a stellar career at The College of William & Mary, where he left as the school's all-time leading scorer, Christie was scooped up as an undrafted free agent by the Tampa Bay Buccaneers.  He spent just two season with the Bucs, making the All-NFC rookie team in 1990 and setting a team record by converting 49 consecutive PAT.  Christie joined the Bills as a Plan B free agent, choosing the Bills mainly because of their special teams successes with guys like Steve Tasker, Mark Pike and Chris Mohr.  He also wanted to win, explaining how easy his decision of leaving Tampa for Buffalo was: "You get depressed winning only three games a season."  And win in Buffalo he did, as Christie became known as one of the most clutch kickers in the NFL during his substantial Bills career.  His accuracy, longevity and intrepid demeanor helped make him the best kicker in Bills history and one of the reasons why the Bills were so successful during the '90s.
Career Highlights
After his solid two-year stint in Tampa, including being named an All-Pro in 1990, Christie came to the Bills as an immediate upgrade over the solid Scott Norwood.  He nailed a pair of field goals in the opener against the Rams on his way to a very good season.  He finished the year 24 of 30 on FG attempts - an 80% success rate, which was a major improvement over Norwood's 62% the previous year.  His biggest moment of the season came in his first career playoff game, when he kicked the game-winner in overtime against the Oilers in the "Comeback Game."  In that game, Christie also became the first kicker in the NFL history to recover an onside kick in the playoffs. He then added 5 FG against the Dolphins in the AFC Championship game.
Over the next eight seasons, Christie proved his worth as one of the top kickers in the NFL.  He had quickly proven capable of handling the ever-unpredictable winds of Rich Stadium, probably due to his upbringing north of the border.  That ability to kick in the elements helped Christie become one of the most clutch kickers in recent memory.  For his career, Christie finished with nine game-winning field goals in overtime, which is tied for the NFL record with former Bengals kicker Jim Breech. He had fifteen game-winning field goals overall, either at the end of regulation or in overtime.  By the time Christie's career with the Bills came to a close, he was 21 of 24 in game-winning or game-tying field goals for his career to that point.  The 2000 season alone saw him kick four game winning field goals.  His propensity for coming through in the clutch was a big reason he was able to remain the top kicker in Buffalo for so many years.
Christie and the Bills ended up having a somewhat messy divorce.  He pulled his groin in the week prior to the opener in 2001, and had made just 4 of 11 field goals during the preseason; he then rejected an injury settlement with the team.  He had been placed on the "reserve-injured" list just before the opener against New Orleans that season.  He was granted his release a few weeks later and would up signing with the Chargers later in the season.  He spent two more seasons in San Diego before finishing his career with a productive 2004 season for the New York Giants. 
Despite the confusing breakup with the Bills in 2001, Christie had no problem signing a one-day contract in order to retire a Bill in March of 2008.  He mentioned that the best years of his career were spent in Buffalo and he had enjoyed being a part of the final two Super Bowl runs.  For a good interview with Christie following his retirement, take a look at this sit down with Chris Brown.
For his 15-year career, Christie finished with 336 field goals on 431 attempts (a 78% conversion rate) and another 468 PAT.  His 1,476 career points currently ranks No. 16 all-time in NFL history, while his 336 field goals rank No. 13 all-time. 
Best Moment
Christie's best moment, like many other former Bills, came in the Comeback Game.  His 32-yard field goal in overtime completed the biggest comeback in NFL history and sent the crowd into a state of "fandemonium".  Christie says it was the field goal that stood out the most in his career:
Obviously the kick against Houston in the comeback game (for Buffalo, a 41-38 overtime playoff win in 1993). It was only 32 yards, but in the ebb and flow of that game, was unparalleled.
Parting Shots
As the franchise's leading scorer and the most clutch kicker in team history, Christie will always be remembered fondly as one of the all-time great Bills specialists.  Despite being a kicker, Christie had his teammates' respect and was as reliable as any player on the team.  His dependability and assassin's foot set the bar higher for all Bills kickers that have succeeded him.  Steve Christie was a very good NFL kicker, and one great Buffalo Bill.
Career Stats with the Bills
144 games
1,011 points (No. 1 in franchise history)
234 field goals made (No. 1)
299 field goals attempted (No. 1)
78.3% FG accuracy (No. 2)
309 PAT (No. 1)
140 points in 1998 is the most in franchise history for a single season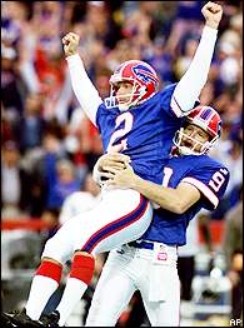 Photo Source