1. Strategy Summary
My plan of attack is to get the Bills to the playoffs and set them up for a SB run at some point in the next couple of years. We know the Defense is the strength of the team, and is SB caliber. The problem is that the Offense is atrocious, and while everyone loves to remind us that "Defense Wins Championships" they often forget the other half of the coin "Offense Wins Regular Season Games" and thus it's the offense that gets you to the post-season in the first place. With that in mind, I'm predominately going to focus on the Offense.
A couple notes here:
With the exception of the FA QBs being awful, this FA class is the absolute nut high in terms of both talent and depth. There will definitely be a lot of action as far as teams trying to get deals done before FA begins and barring that tagging guys. Even after guys like Dez Bryant and Justin Houston get golden handcuffs put on them by their teams, there's still going to be a ton of talent out there. I think it's right to make a couple of decent sized splashes and pick up some value guys to fill out some areas where we could use depth.
The Draft in comparison doesn't look as good. It seems like there's going to be a bunch of quality Pass Rushers near the top of the draft, but no guaranteed plug and play 10 year starting QBs or LTs, which in addition to not having a first round pick is going to hurt the Bills, since the guys you'd normally hope to pick up in round 2 as a value pick up (like Cordy Glenn) will already be gone (or in this draft, a guy with character issues like Dorial Green-Beckham).
Team Needs. These are not necessarily in order, largely because of the fact that there is some overlap, we need multiple QBs and multiple OGs, but the second QB is probably less important than the first OG, and such, but I did try and rank them somewhat.
Coaching stability so we can build on momentum built from last year.

2 to 4 QBs to bring into Training Camp. At least one must be a veteran. We have one NFL quality QB on the roster in EJ, whether he's starter level, or backup material, I don't know, but I know we need more guys to create competition for the starting job. I'm not sold on Jeff Tuel, even as a Practice Squad guy. We should be looking at bringing in competition for him as well.

A starting Right Tackle, I'm leaning towards a vet, someone who can upgrade Seantrel (who played below average at RT last year, admirably for a 7th rounder, but below average), and allow Hairston to walk in FA. I feel like Seantrel should be our Swing Tackle, and will continue to improve, where as I feel like if Hairston was worth keeping, he would have beat Seantrel for the starting RT spot.

A starting Pass Rushing DE and another one for depth. Hughes is a FA, if he gets away we have a hole to fill, likewise if Wynn leaves in FA, we'll have a backup spot to fill as well.

2 starting OGs (keep in mind it's Jan 1, and Incognito is not on the roster at this point), possibly more for depth.

Run-stuffing DT depth. Corbin Bryant is a FA, and we did not fair well against the run in Oakland when Dareus went down. I want a big DT who can generate some push in the middle of the line and while I don't expect him to be as good as Dareus, he needs to be good enough that we aren't totally lost against the Run when Dareus comes out for a couple snaps.

2 RB for our committee. Spiller is a FA. I would like to come to camp with 5 RBs and probably whittle down to 4, possibly 3. The 2nd RB though is so far down the list of needs that he'll likely have to be filled with a UDFA. Ultimately, we want someone now so that moving on from Freddy, whenever and however that happens, is less painful.

1 close to starting level Safety. Searcy is a FA.

3 WR. Mike Williams didn't pan out for us, Chris Hogan is a ERFA, and Easley is a UFA, leaving us with 3 WRs (one of which is a Special Teams ace at the moment, I really would love to see Easley get WR playing time, especially after seeing him do well in pre-season last year). That leaves us needing to bring Hogan and Easley back and get a 6th. I would love to bring someone in at the #2 or #3 WR level to create competition for Woods or Hogan, but that may not be realistic with some many other needs. In reality we already have several unproven WRs signed to future contracts and picked up off of other teams cuts and practice squads, so this might be more of a Nice To Have.

1 backup CB. We have 4 solid CBs, but after that it gets sketchy. With McKelvin out against Oakland, things got hairy when Gilmore went down with Ron Brooks getting picked on by giving such a big cushion. I'm not necessarily looking to cut Brooks, more likely Mario Butler gets the axe, I just want a better CB at #5 than Ron. Maybe this is unrealistic with the number of dollars we have, but I have my eye on someone who should be relatively inexpensive.
Nice to Haves:
2 TEs. Having a Julius Thomas type talent would be nice wouldn't it? Unfortunately, I think I have to agree with the choices OBD have made recently in de-prioritizing it as a position, simply because what we have is serviceable. That said, I aim to sign at least one in FA at a good value.

LB Depth. We have a couple FAs here that should be cheap to re-sign.

Center Depth. This is my line in the sand of "Not Happening" due to not having the resources to be able to do it. This is "Waiver Wire pick up after cut downs to 53 man roster, and stash them on the Practice Squad" territory. Or "Get a UDFA and hope he's better than Kraig Urbik" territory. Not that I plan on keeping Urbik, but UDFA are largely camp fodder, they really have to impress to stick and the chances of them being better than someone that was drafted is stacked against them as it's unlikely that they were passed 7 (or more) times by 32 teams in the draft if they were any good.

Safety Depth. If we re-sign Searcy, we have AWilliams, DWilliams, and Searcy as potentially starter level Safeties (if DWilliams continues to improve). That leaves us with Bacarri Rambo (who's shown some potential), and then Meeks and Kenny Ladler (both of whom ended up on IR last season). It wouldn't hurt to have another Safety like Bacarri Rambo who has flashed some potential to have on the back end of the roster and give them a chance to grow.
That's 17 Needs, 12 on offense, 5 on defense (7 of which are starters, 5 on offense, 2 on defense) and 5 Nice to Haves (but let's recognize that's it's actually 3 because the others aren't getting addressed realistically). I think I need a drink. We currently have 6 picks in the draft which I want to turn into 7 to take care of some of these holes. Additionally, since I'm really trying to make a push now for the playoffs and have a reasonably large amount of cap space, I want to try and address as many of those positions where we needs starters in FA as possible. I usually want to build through the draft, but without a 1st rounder and with so many needs, it's going to be hard.
Being that I'm shooting for the playoffs, and then a SB push, I'm going to need to make some big extensions (Dareus, Bradham), and plan for the 2016 off season as well (Gilmore, Glenn). Additionally, I want Comp Picks in the 2016 draft to restock the roster with more talent when it comes time for that SB push.
2. Front office and coaching staff.
It's January 1st, and I'm hiring Jim Schwartz as head coach. I know there's a lot of Rex love, and I completely understand why. He's a good leader, and has been to two AFC Championship Games. I, however, want to build on the momentum already built up under Jim Schwartz. He was carried off the field in Game 5 last year, so there's reason to believe the players like him already. Building on results is incredibly important in business, and the NFL isn't very different. Jim Collins is a well known and respected business author (focusing on what makes companies successful), here's an excerpt from an article called Good to Great (which is also the name of one of his books):
"How change does happen




Now picture a huge, heavy flywheel. It's a massive, metal disk mounted horizontally on an axle. It's about 100 feet in diameter, 10 feet thick, and it weighs about 25 tons. That flywheel is your company. Your job is to get that flywheel to move as fast as possible, because momentum—mass times velocity—is what will generate superior economic results over time.

Right now, the flywheel is at a standstill. To get it moving, you make a tremendous effort. You push with all your might, and finally you get the flywheel to inch forward. After two or three days of sustained effort, you get the flywheel to complete one entire turn. You keep pushing, and the flywheel begins to move a bit faster. It takes a lot of work, but at last the flywheel makes a second rotation. You keep pushing steadily. It makes three turns, four turns, five, six. With each turn, it moves faster, and then—at some point, you can''t say exactly when—you break through. The momentum of the heavy wheel kicks in your favor. It spins faster and faster, with its own weight propelling it. You aren't pushing any harder, but the flywheel is accelerating, its momentum building, its speed increasing.

This is the Flywheel Effect. It's what it feels like when you're inside a company that makes the transition from good to great. Take Kroger, for example. How do you get a company with more than 50,000 people to embrace a new strategy that will eventually change every aspect of every grocery store? You don't. At least not with one big change program.

Instead, you put your shoulder to the flywheel. That's what Jim Herring, the leader who initiated the transformation of Kroger, told us. He stayed away from change programs and motivational stunts. He and his team began turning the flywheel gradually, consistently—building tangible evidence that their plans made sense and would deliver results.

"We presented what we were doing in such a way that people saw our accomplishments,"Herring says. "We tried to bring our plans to successful conclusions step by step, so that the mass of people would gain confidence from the successes, not just the words."

Think about it for one minute. Why do most overhyped change programs ultimately fail? Because they lack accountability, they fail to achieve credibility, and they have no authenticity. It's the opposite of the Flywheel Effect; it's the Doom Loop.

Companies that fall into the Doom Loop genuinely want to effect change—but they lack the quiet discipline that produces the Flywheel Effect. Instead, they launch change programs with huge fanfare, hoping to "enlist the troops." They start down one path, only to change direction. After years of lurching back and forth, these companies discover that they've failed to build any sustained momentum. Instead of turning the flywheel, they've fallen into a Doom Loop: Disappointing results lead to reaction without understanding, which leads to a new direction—a new leader, a new program—which leads to no momentum, which leads to disappointing results. It's a steady, downward spiral. Those who have experienced a Doom Loop know how it drains the spirit right out of a company.

Consider the Warner-Lambert Co.—the company that we compared directly with Gillette—in the early 1980s. In 1979, Warner-Lambert told Business Week that it aimed to be a leading consumer-products company. One year later, it did an abrupt about-face and turned its sights on healthcare. In 1981, the company reversed course again and returned to diversification and consumer goods. Then in 1987, Warner-Lambert made another U-turn, away from consumer goods, and announced that it wanted to compete with Merck. Then in the early 1990s, the company responded to government announcements of pending healthcare reform and reembraced diversification and consumer brands.

Between 1979 and 1998, Warner-Lambert underwent three major restructurings—one per CEO. Each new CEO arrived with his own program; each CEO halted the momentum of his predecessor. With each turn of the Doom Loop, the company spiraled further downward, until it was swallowed by Pfizer in 2000."



http://www.jimcollins.com/article_topics/articles/good-to-great.html
Football teams and publicly traded companies have some pretty significant differences (Football teams can't be bought out by a competitor), but the principles are still there. I truly hope Rex succeeds and takes us back to the SB, but as acting GM, I want to build off of whatever momentum we already have and not force yet another scheme change down everyone's throat. Change has to happen for us to make the playoffs, but I feel like it's small incremental system/process changes that need to happen (we did finish 9-7 and had a couple of close games that could have gone either way or been game planned better), and not broad sweeping ones (like bringing in new leadership, which will add a learning curve all over again and potentially jade our players). Leaving the current staff mostly intact lets them learn, grow and get better together.
Danny Crossman is staying and so is Nate Hackett (I think I just threw up in my mouth a little, but with Marrone gone, I want to see if Hackett can actually put together an NFL offense, plus no OC that Schwartz has worked with before is available). This is Nate Hackett and the rest of the Offenses sink or swim year. If they don't make the playoffs, then we'll admit that they're the problem as opposed to it just being a system/process issue. If you want to flunk me now, go for it, but this is how I felt on January 1st, and those were the rules.
At DC, we're promoting from within making Pepper Johnson the DC, and making Donnie Henderson the Defensive Passing Game Coordinator. In turn we're promoting Jason Rebrovich to DLine Coach (from Assistant DLine coach), and Samson Brown to DB Coach (from Assistant DB coach). It's easier for players to embrace a Next Man Up mentality if they see "management" doing it too.
The Bills having a Defensive Passing Game Coordinator was an idea I had last year (something that some other NFL Teams have) , you can read more about it in my 2014 BROP: http://www.buffalorumblings.com/2014/3/1/5459170/a-freakish-brop
I also did a Post Mortem for that BROP shortly after the 2014 season:
http://www.buffalorumblings.com/2015/1/29/7947489/a-post-mortem-of-a-2014-brop-in-5500-words



3. Bills personnel.
Before we get into who I'm resigning and letting walk in FA, there's something that I want to address:
Retiring in the NFL freezes the contract, and the player can then decide to come back, re-activating the contract. It would be such an Orton move to un-retire the day after Training Camps finish when a team like the Rams pushes the panic button because a guy like Bradford gets hurt again. OverTheCap now has his $1.5M listed as dead money anyways, and I'm pretty sure Dan captured that in his $34M in cap space figure for the rules (before setting aside $3M for rookies), but I'm surprised that I haven't heard anyone talk about the possibility that Orton could come back (again, just like Favre) if the Bills haven't drastically revamped at QB, and the entire retirement deal is just a way for him to get an extra long vacation, because why not? I think it would actually be extra funny if OBD was in on it, but personally, I intend to try my hardest to revamp the QB position such that if Orton comes out of retirement again, it won't be too hard a decision to cut him.
Cuts:
Keith Rivers. $32.7M in cap space.
Kraig Urbik. $34.975M in cap space.
Chris Williams, post June 1st. I'm actually going to bring him to camp to use him as the measuring stick to beat. If he somehow turns it on and surprises everyone, great, we have an OG and some quality depth. If not, I want to access that $2.475M for extensions closer to the end of summer. $37.45M in cap space.
Walking in FA:
Erik Pears. We can do better.
Lee Smith. We can do better.
Chris Hairston. I don't believe we've seen enough from him. Seantrel was a below average RT, and Hairston was not able to beat him out for the RT job in camp as a 4 year vet. I'm bringing in a starting quality RT that can push Seantrel into the Swing Tackle role and let him develop behind the vet, and hopefully be the succession plan in 3 years time.
Corbin Bryant. I don't want to see him go, but he hasn't impressed for me against the run, and that's where we need to improve when Marcell is out.
Marcus Thigpen. He's an excellent returner, but I think it would be a mistake to sign him instead of using the money towards part of the salary of a starting QB, OT, or OG.
Stevenson Sylvester. He made $730,000 while sitting on IR and we currently have a lot of quality at LB.
CJ Spiller. This really pains me. I think he's been a class act the entire time he's been here and I think he's a special talent at RB, even if there has been disappointment with his production. The problem is that I think he's going to demand at least $4M a year, and it's a losing proposition when we have bigger needs at RT and OG (the guys that will make Spiller look good). While we're not going to get as talented a RB from the draft as CJ, that's the plan, get a younger, cheaper RB from the draft. This sucks.
Brandon Spikes. He's going to want to play a larger role and get a pay raise. Sadly, that's something the Bills just can't afford unfortunately. I'd love to have him back too.
Jordan Gay. I'm not sure we need a KO specialist, but I am pretty sure that letting him walk isn't the worst thing in the world. We can always bring in another undrafted kicker if we need camp competition to keep Carpenter on his game. Additionally, it's not super likely that Jordan Gay would get signed elsewhere, we could probably give him a call if something happened mid-season.
That's a lot of people walking out the door. Spiller and Spikes for sure get signed, and there's bound to be a couple others (surely someone will offer Erik Pears a more manageable amount of money to be a backup, right?).
Players getting Re-signed:
Jerry Hughes. 5 year $52.5M deal ($10.5M a year) with $30M guaranteed. $26.95M left.
Da'Norris Searcy. I think he's going to be disappointed if he hits FA. This is a stacked Safety FA Class headlined by McCourtney, Tashaun Gipson, and Rahim Moore, with plenty of depth. I'm going to offer him a $12M, 4 year contract ($3M a year) with $6M guaranteed. I think that should keep him here. $23.95M left.
Jarius Wynn. We brought him in last year in FA at $795,000. I think we can keep him here with a modest bump in price and an additional year. $1.8M 2 year contract ($0.9M a year) with a $250,000 in guaranteed money this year (but not next). $23.05M left.
Larry Dean. 1 year $500,000 deal. $22.55M left.
Chris Hogan. Tender at $500,000. $22.05M left.
Marcus Easley. $4.2M 3 year contract ($1.4M a year) with $2.5M in guaranteed money. $20.65M left.
That takes us from 17 Needs (5 starters for the Offense, and 2 for the D) and 3 Nices to haves to 12 Needs (4 QBs, 1 RT, 2 OG, 2 RB, 1 WR, 1 run stuffing backup DT, 1 backup CB) 4 of them starters on offense (1 QB, 1 RT, 2 OG) with Hogan counting as a "starter" (at WR #3 at the moment) and 2 Nices to Haves (2 TE) with $20.405M and 6 draft picks (which I want to turn into 7) to fill them with. Realistically 1 RB, and 1 QB could be UDFA since it's unlikely that we'll have roster space for them at the end of training camp.
Players getting Extended, Dareus, Bradham. But we'll get back to them, because their deals can come after the draft.
4. NFL personnel.
Quarterback analysis:
All of the QBs we could want require a trade, FA is a mess here, it almost always is. As GM I'm calling Philadelphia and offering our 2nd rounder and a 3rd in 2016 that can turn into a 2nd for Nick Foles. They decline.
First, I think the rumors are nothing more than that (but we still have to try). Even if Foles' 2013 campaign was an anomaly, he's still a 5.56 ANY/A passer in his other 2 seasons which puts him in the Doug Floutie, Troy Aikman, Warren Moon neighborhood (above average) and ahead of guys like Alex Smith and notable 2015 FAs Mark Sanchez and Josh McCown (including the 2013 season, it's a 6.87 ANY/A, which puts him in Brees, Brady, Steve Young, Phillip Rivers, Kurt Warner territory).
A second rounder and a sweetener is about the precedent for a QB trade (Alex Smith, Carson Palmer, Jay Cutler), and the Titans, Rams, and Texans have all expressed interest in him:
http://www.csnphilly.com/blog/700-level/what-nick-foles%E2%80%99-trade-value
Second, if Chip's heart is really set on Mariota, the Titans would be his ideal trade partner, likely something like their 2nd overall pick for the Eagles 20th overall pick, Foles, their 2nd round pick, and their 2016 first round pick. And I think the Titans would be getting the far superior end of that trade.
Bradford has an extensive injury history and a large cap number, and I have a feeling he won't generate interest unless he's a FA. The Rams would free up close to $13M in cap space if they cut him. Then I could see teams willing to take a chance on him, and I would be on board with the Bills being one of those teams. Even if he does get cut, I think someone else outbids us.
Cutler is a gunslinger with a large cap number, and RGIII is potentially a locker room cancer who has already been called the current starting QB headed into the 2015 season.
The Raiders, Vikings and Jags aren't parting ways with their young QBs. The Lions, Packers, Patriots, Dolphins, Chiefs, Chargers, Broncos, Steelers, Ravens, Bengals, Colts, Panthers, Saints, Falcons, Cowboys, Giants, Seahawks, 49ers, Cardinals aren't trading their veterans. And we don't want what the Jets, Titans, Texans, Browns, and Bucs have on their roster as it stands now.
This leaves us with either the FA QB class as it stands, or with the addition of guys that get cut. Here's some QB around the league I think stand a real chance of being cut:
Sam Bradford. We'd likely get outbid though.
Drew Stanton. He was awful this past year and he's paid pretty well, I would look for him to be a cap casualty, not that I want him on the Bills, but just a guy I think is getting cut.
Matt Cassel. Unlikely to be cut because the Vikings have plenty of space with $20M, a cheap starter in Bridgewater, and only 12 FAs of their own to re-sign, but if they did cut him it would save $4.75M, which I could see being used to get someone else instead. If he's available, I wouldn't mind trying to obtain him at a reasonable price.
Charlie Whitehurst. Unlikely to happen before the draft because the Titans have $44M in cap space, but if they fall in love with both Mariota and Winston (or just one of them and the Bucs take to other), then they have Mettenberger and Alex Tanney on the roster also, and cutting him would create an additional $2.25M in cap space. I wouldn't be interested if he becomes available however, he seems to be a career backup and not a very good one at that.
Chase Daniel. He's set to make $4.8M as a backup in 2015, the Chiefs are currently have $4.5M in cap space, but need to re-sign Justin Houston to a long term deal. I would be interested in obtaining him on a 1 year prove it deal with no guaranteed money should he become available, just not as plan A.
QBs evaluation (I put EJ and Orton on the list for comparison sake):
| | | | | | | | | |
| --- | --- | --- | --- | --- | --- | --- | --- | --- |
| Qbs | ANY/A | Record | Comp% | TD/INT Ration | Starts | Games | Atts | Notes |
| | 5.74 | 10-7 | 56.5 | 1 | 17 | 32 | 630 | Below average TD/INT Ration |
| | 5.65 | 16-18 | 62.2 | 1.633 | 34 | 46 | 1183 | Age Concern |
| Kyle Orton | 5.54 | 42-40 | 59.5 | 1.46 | 82 | 87 | 2712 | Retired, I think |
| | 5.38 | 9-14 | 57.5 | 1.227 | 23 | 30 | 709 | Injury Concern |
| Sam Bradford | 5.17 | 18-30-1 | 58.6 | 1.55 | 49 | 49 | 1760 | Injury Concern |
| | 5.15 | 11-12 | 58.9 | 1.18 | 25 | 49 | 768 | |
| EJ Manuel | 5.07 | 6-8 | 58.6 | 1.333 | 14 | 15 | 437 | Actually seems pretty good compared to the FA class |
| | 5.1 | 17-17 | 59.6 | 1.11 | 34 | 56 | 1067 | |
| | 4.98 | 37-33 | 56.3 | 1.025 | 70 | 71 | 2176 | |
| | 4.93 | 7-18 | 60.3 | 1.08 | 25 | 33 | 831 | |
| Chase Daniel | 4.84 | 1-1 | 64 | 1 | 2 | 53 | 75 | Would need to be cut, low attempts makes these numbers harder to judge |
| | 4.74 | 17-32 | 58.8 | 1.033 | 49 | 73 | 1664 | |
| | 4.6 | 14-21-1 | 59.8 | 1.05555 | 36 | 38 | 1057 | |
| | 3.96 | 1-1 | 53.2 | 0.667 | 2 | 7 | 79 | Concerns on everything |
Backup QB Shaun Hill on a 1 year $1.5M deal. He's old, but he would push EJ both on the field and in the film room. He was an UDFA when he entered the league so we know he's hard working in order to have stuck around this long, he's one of the only guys on our list with a better TD/INT ratio than EJ.
$19.15M left.
QB Brian Hoyer. He wins games and has an ANY/A comparable to the likes of Roger Staubach, Rich Gannon, and Jim Kelly, and has some guts like them: I feel like he's the type of QB that if you could reign in his risk taking by letting him trust the defense to come up with a stop, and just coaching on his decision making (everything else seems to be there), that he could easily push that TD/INT ratio up and become a very solid QB. If you can't reign it in, you have some very Fitzy plays that will happen: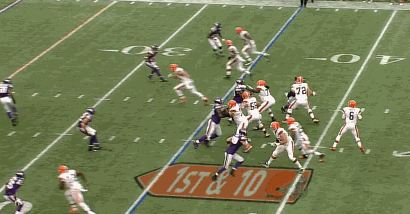 Or worse:
We're going to do a 3 year deal with a $4.5M signing bonus as follows:
2015: $3M, $1.5M prorated portion of signing bonus
2016: $4.5M, $1.5M prorated portion of signing bonus
2017: $8.5M, $1.5M prorated signing bonus.
We're bringing Hoyer to camp with the intention of figuring out just what EJ is made of (he has all the tools to beat Hoyer but he needs to put it all together) and what Hoyers made of. If neither can beat out Shaun Hill, they don't deserve to be starters and we're starting over in the 2016 draft because our "Play-Offs or bust" mentality may have just bust (at the very least our SB push did for sure). All that said, I think Hoyer of all the FAs, and a real competition at QB, brings the highest possible reward to go with our risk we're taking. I want him in the door (hence the guaranteed money and the teaser for a full time gig if we determine he's good enough and that we can bail on EJ) and signing a contract, he knows how to win games and get the team to trust him, and he'll work hard. We can't ask much more than that out of this FA class, or of any of the QBs we could draft this year.
$14.65M left.
OLine, what good is a QB if you can't keep him upright?
RT Doug Free. A bunch of you might say I'm copying the article from a couple weeks ago. I've had him in my BROP on Google Docs for about a month. PFF rated the Cowboys as having the highest rated OLine in the league (and credited them as a key reason to the Cowboys return to the playoffs), and the Cowboys are in a tight spot with the cap (about a month ago they were listed at $7.4M in cap space, now they're listed at $16M in cap space so they've already started making cuts). Dez Bryant could very well be getting Franchise tagged, they have 19 other FAs including DeMarco Murray (who could walk). Jeremy Parnell played well when Doug Free got hurt, is younger, and Jerry Jones has been quoted as saying he thinks Parnell is "ready to take the next step." They're very likely to let Doug Free walk since he was costing them $6M a year. I think he's got 4 good years left in him, so I want to offer a contract of $19M (averaging $4.75M a year), with guaranteed money ($9M) up front and as little as possible guaranteed money in year 4.
2015: $4.75M, $4M of which is guaranteed
2016: $4.75M, $3M of which is guaranteed
2017: $4.75M, $2M of which is guaranteed
2018: $4.75M, none guaranteed
$9.9M left in cap space.
OG/C Richie Incognito (cut from Dolphins). He wasn't on my radar on January 1st. But he's probably the best value at OG we can get. I'm begrudgingly giving him a contract, despite not liking the person. Over the cap has him at $1.1M against the cap (with incentives that can take him higher). Hiring him is going to require I get another inexpensive OG as a backup for him (in addition to another starting level OG we need as well) in case he hasn't got his life together and becomes toxic to the locker room. Again.
$8.8M left.
OG/C Mike Pollak (cut from Bengals). A career backup. We're offering him a 2 year deal for $2M ($1M a year) with no guaranteed money. He should be a good pick up as a back up if he's on par with Doug Legursky (a below average starter, but at least he belongs in the NFL, we're also paying him similarly to Legursky), good to have on the team, just not as Plan A. Him and Richardson become our depth at Guard.
$7.8M left.
TE Ed Dickson.
6'4" 255 pounds, 27 years old, in 2011 when Dennis Pitta was injured he caught over 50 passes for 500+ yards and pulled in 5 TDs (so he's capable production on Chandler's level in the passing game), in 2012 when the Ravens won the SB, he saw a lot of play time as the second TE and got a lot of blocking duty, his last salary was $730,000 on a one year FA deal with the Panthers last year, but he underperformed for them and they have Greg Olson cemented as the #1 TE. We're going to offer him a 3 year $6M deal structured with $0.75M signing bonus as follows:
2015: $0.25M pro-rated signing bonus. $0.75M salary (so he only counts $1M against the cap this year)
2016: $0.25M pro-rated signing bonus. $1.75M salary.
2017: $0.25M pro-rated signing bonus. $2.75M salary.
From the gif you can see what type of athleticism he would bring to the position, he's slightly shorter and slightly lighter than Chandler, but he's a willing blocker (in 2012 SB he was asked to block Aldon Smith), and I feel like he's the type of guy you take a chance on, tell him you have confidence in him to be a #1 TE, and that you're going to heavily work him into the rotation this year and want him to take over next year. The fact that he was forced to sign a 1 year deal with the Panthers for $730,000 when he's capable of more is a shame. Something else that's not super significant, but the guy does have a Superbowl Ring, which is what we want to get. Experience is a good thing to have when it comes to preparing for the work ahead.
$6.8M left.
CB Zack Bowman. In my BROP last year I offered $1.5M a year, he signed a 1 year contract with Giants for $730,000. In his 2014 season with the Giants he looks to have been a solid contributor with 5 starts in 15 games, 6 passes defensed and 2 INTS, 1 Fumble Recovery, 364 Defensive Snaps, 152 ST snaps, that said I don't know what he looks like in coverage as I didn't watch Giants games, but from the stats he looks to be in line with Nickell Robey except that at 6'1" 196lbs he covers on the outside instead of the slot. I'm looking to push Ron Brooks out of the #5 CB slot (or #4 if Corey Graham sees more time at safety), he gave up too many completed passes in his limited playing time last year. This would make someone like Mario Butler expendable. We're offering him a 2 year $2M deal ($800,000 in year one and $1.2M in year 2, with a $200,000 being guaranteed each year).
$6M left in cap (with $3M already set aside for rookies).
Where we stand: 7 Needs (2 QBs, 1 OG, 2 RB, 1 WR, 1 run stuffing backup DT) 1 of them starters on offense (1 OG) 1 Nices to Haves (TE), with the possibility that 1 RB, 1 QB, and maybe even 1 WR could be UDFAs. We're also assuming that between Hoyer, EJ and Shaun Hill that one of them is a legitimate average NFL starting QB. We can breathe a little at QB with 3 guys with NFL experience on the roster, one definitely won't be around next year, but
Guys I really would have liked to take a more in depth look at given how good this FA class is but just couldn't justify:
Torrey Smith. In a WR FA class with Dez Bryant (getting tagged), Demarius Thomas, Randall Cobb, Jeremy Maclin, Hakeem Nicks, Wes Welker, amongst other talented guys, Smith may have been that sweet spot of being a very good WR that ended up without a team wanting to overbid for him and get scooped up at a bargain. Similarly if all our roster needed was a solid return guy and a #4 WR, Jacoby Jones would make a great addition. Sadly I just don't think we can commit to that at all with everything else that needs to be addressed.
Justin Houston. If I'm allowed to be more unrealistic, than I'm tagging and trading Hughes to Philly for Nick Foles, and then the Chiefs let Houston walk in FA and we sign him. That's clearly not happening. Our D line would be the most absurd ever with Houston.
Charles Clay. If TE were really more of a need I'd go after Clay harder, but I think it's more of a Nice To Have this year, since QBs and the OLine are what are going to matter the most. Additionally, he's not going to make it out of Miami in my estimation, and if he did there could be a lot of teams bidding for him. There's also some minor injury concerns.


5A) 2015 NFL Draft.
In round 2 I'm looking to trade down a couple of spots and pick up a 4th rounder. The Cardinals make the most sense as far as the trade value on the draft chart, but there's a possibility that the Eagles want to trade up as well. We'll say it's the Cardinals, so we move down from 50 to 55, and pick up a 4th rounder as well (24th pick in the 4th round, currently pick 120 but that will change once comp picks get announced).
Round 2: OG Laken Tomlinson from Duke.
Round 3: QB Garrett Grayson from Colorado, 65% completion percentage, over 4000 yard season, 32 TDs to 7 INTs.
Round 4 (acquired from Cardinals): TE Jesse James from Penn State. 6'7" 261lbs (with room to pack more muscle onto his frame). Not super productive as a receiver, but can haul the ball in and make one handed catches if necessary:
He's a good blocker and should be a suitable replacement for Lee Smith close to immediately and fill in as a dangerous TE behind Dickson over a couple of years.

http://youtu.be/tu8d7k9BLdA
(No. 18, he's pushing his man back the entire play on this next one until the RB runs into him).
I'm unsure if he'll last to the 4th round, I see a lot of potential with a possible ceiling of Rob Gronkowski, but I also see a lot of things he could improve, and his floor is a role player right now. He's the type of guy I think you take a chance on and develop and hope he can turn into a solid contributor or even starter.
Round 5 (acquired from TB): RB Josh Robinson. He had a terrible game against Alabama, giving up a Safety:
But the guy just does not want to quit ever:
Here's his story which I think is incredibly important:
http://www.clarionledger.com/story/sports/college/mississippi-state/2014/11/15/msus-josh-robinson-refused-give/19086313/
He seems like an incredibly hard worker with a positive attitude and the type of guy you want on your team, learning how to be a professional from Fred Jackson in what might be his last year.
Round 5: DT Terry Williams DT. 353 Pounds, looks like a bowling ball
rolling through the OLine, has quite the initial push for a guy his size. This is the guy I want on the field if Marcell goes down to injury and to give Marcell a breather:
https://www.youtube.com/watch?v=pjmQq7KepA4
I mean, if only we can find a Williams to be Jerry's backup, we could run out a DLine that was all Williamses now.
Round 6: WR. There's a ton of 6'2-3" 215lbs (or so) WRs with mid 4.5 second 40 yard dashes that look like they'll fall to the rounds 4-7 range. Davante Davis is one (others include Dezmin Lewis, Vince Mayle, Brashad Perriman, Austin Hill, Kasen Williams, Matt Miller) that could fall because of injury concerns. If he's there I'm taking him, but I'm not convinced he won't be (he could go a lot higher, especially if he has a good pro-day). So I'm taking Matt Miller (6'3", 220lbs, 4.56 second 40 yard dash speed) from Boise State here as my realistic 6th round WR.
Round 7: QB Hutson Mason. 11-4 as a starter for Georgia Bulldogs. 67.9% completion percentage, 21 TDs to 4 INTs, very good on short and mid throws, fast release and good mechanics, played under center in a pro-style system at Georgia. Performed well at the Senior Bowl.
Knocks against him are:
That he only started one year, benefitting from a strong run game headed up by Todd Gurley.
At 6'2" and 209lbs, he has the height but could be a little small to be taking sacks at the pro level.
Lacked some confidence on his deep throws during the season (but had some good deep throws at the Senior Bowl). Needs to work on not leading DBs to the catch point with his eyes (drawing coverage to his receivers). Definitely someone to bring in and see if they can make Tuel expendable. 67.9% completion rate is nothing to sneeze at even if it's mostly on short routes.
Following the draft, we're trying to get as many UDFA RBs, FBs, LBs, and OLinemen in the door, and maybe another QB even (a guy like Bo Wallace perhaps).
5B) Post Draft extensions.
Marcell Dareus. I want to wait for Goodell to hand the (very likely) impending suspension to Dareus for his off season last year. If that happens, the first thing we do is work with Dareus to appeal. Then, while the paper work is going in we extend him an offer to re-work his current deal that has no guaranteed money in 2015, just $8 million in base salary (which means, no money for suspended games). I want to structure a 7 year deal extension with $50M in guaranteed money as follows:
2015: $12M fully guaranteed (whether he serves suspended games or not).
2016: $8M fully guaranteed, $5M in salary, $1M in bonuses. ($14M cap hit)
2017: $8M fully guaranteed, $5M in salary, $1M in bonuses ($14M cap hit).
2018: $8M fully guaranteed, $6M in salary, $1M in bonuses ($13M cap hit).
2019: $8M fully guaranteed, $6M in salary, $1M in bonuses ($13M cap hit).
2020: $4M fully guaranteed, $8M in salary, $1M in bonuses ($13M cap hit).
2021: $2M fully guaranteed, $10M in salary, $1M in bonuses ($13M cap hit).
That averages out to just over $13M a year (7 years, $92M a year), but we're going to heavily feature the guaranteed money and make sure he knows that the Bills are sticking by him, suspension or not, we want to make sure he gets paid. We're also going to get the whole team a team building exercise for Racing lessons at a closed course with a professional instructor (the kind that requires a sit down about safety at the beginning and how street racing is dumb).
This is an additional $4M in cap we didn't have before the season, leaving us with $2M more to rework Bradham.
I want to offer him somewhere in the neighborhood of $3.5 to $4.5M a year on a 4 year deal, his current salary is around $0.75M, so we'd need to do another deal with the first year being lower and back loading the contract with guaranteed money to pull him in:
2015: $0.75M salary + $2M guaranteed pro-rated signing bonus
2016: $2M salary + $2M guaranteed pro-rated signing bonus
2017: $3M salary + $2M guaranteed pro-rated signing bonus
2018: $3M salary + $2M guaranteed pro-rated signing bonus
That's a $16.75M in 4 years ($4.1875M a year on average).
Additionally, it's entirely possible that we end up with surprise cuts, come camp time (Chandler could underperform, Freddy could get injured and take an injury settlement if he wanted this to be his last year anyways). Obviously that would really emotionally suck (for Freddy), but the unexpected happens in the NFL.
6. Conclusion/Outlook.
We addressed all the areas I thought we would want to, save needing another RB in the mix that we can pick up either an UDFA or a camp cut. Our depth chart looks like this:
QB: Brian Hoyer, Shaun Hill, EJ Manuel, Garrett Grayson, Hutson Mason, Jeff Tuel
WR: Watkins, Woods, Hogan, Goodwin, Easley, Matt Miller
RB: Fred Jackson, Anthony Dixon, Josh Robinson, Bryce Brown
TE: Chandler, Ed Dickson, Jesse James, Marques Grey, Chris Gragg
OT: Cordy Glenn, Doug Free, Seantrel Henderson, Cyrus Kouandjio
OG: Richie Incognito, Laken Tomlinson, Mike Pollak, Cyril Richardson
C: Eric Wood
DE: Mario, Jerry Hughes, Manny Lawson, Jarius Wynn
DT: Marcell Dareus, Kyle Williams, Terry Williams, Stefan Charles
LB: Kiko Alonso, Nigel Bradham, Preston Brown, Ty Powell, Randell Johnson, Larry Dean
CB: Stephon Gilmore, Leodis McKelvin, Corey Graham, Zack Bowman, Nickell Robey, Ron Brooks, Ross Cockrell, Mario Butler
Safety: Aaron Williams, Searcy, Duke Williams, Bacarri Rambo, Jonathan Meeks, Kenny Ladler
ST: Sanborn, Schmidt, Carpenter
That's 61 guys, it doesn't bode well for Mario Butler or Kenny Ladler.
We made "Next Man Up" something that more than just the players are going to live by, by promoting from within for coaching positions.
2015 Outlook: 11-5 here we come! I'm hoping that Manuel raises his game and clearly beats out Hoyer and Hill personally, and that we can sit Grayson for a couple years behind him.
Something else I really want to see happen in 2015 is Mario Williams wear the Caption patch on his uniform. He's been getting more and more vocal on the sideline and holding guys accountable, it's not that big a step to being a leader, and I think getting him emotionally invested in the Bills long term is going to be an important aspect of taking this team to the next level.
The Cap situation in 2016, we'll have roughly $15~20M in cap space (if it goes us $5M or $10M), with the following notable pending FAs:
Fred Jackson :(
Scott Chandler (have a plan to move on from already in place)
Cordy Glenn (would want to retain)
Stephon Gilmore (would want to retain)
Nickell Robey (would want to retain at a reasonable cost)
Bryce Brown (need to see what happens)
Richie Incognito (need to see what happens)
Colton Schmidt (should be easy to retain)
Keeping Hoyer in 2016 as a backup should Manuel beat him out for the starting job shouldn't be too big a deal since Manuel will still be on his rookie deal, but shouldn't be