Week 11 already? Where did the season go? Lucky for us at the 9/17ths mark, Buffalo has barely played just over half of their season. We have 8 more regular season games left and hopefully several more after that! Last week, most of us picked the Bills to beat the Jets and about half of the correct guessers predicted a blow-out of some fashion. While nobody predicted a correct score of 45-17, DigitalDreamer woke up from their slumber dreaming of spreadsheet heaven to get the closest to the correct score, and even had the Jets total correct. Congratulations! Enjoy seeing your name up on the Wall of Winners. . .
Created for free @ fwriter.com
Week 11, Colts v Bills: For only the second time in 7 weeks, Buffalo hosts a home game, inviting the uneven Colts into the stables. According to oddsmakers, Buffalo is a 7-point favorite with an over/under of 49.5 points.
Bills 33, Colts 10: Last week, riding into a sure-victory, the Bills defense allowed the Jets to score 2 garbage-time TD's in the 4th quarter. They will not make the same mistake this week. Despite the fact that the sky is falling, Buffalo manages another impressive victory over a team that could still make a push for a playoff spot. Bass gets 3 XP, 4 FG, including a 60-yarder at the end of the first half. This week, the Bills control the clock with a balanced running attack while also getting 100 yard efforts from Diggs and Sanders. Knox notches another TD reception in the red zone. Speaking of the sky is falling -- this week's poster is brought to you by the apprehension and concern for injured players/COVID-19 players. This game could seriously be impacted if the line is in shambles, but I'm keeping my optimism up that the offense found themselves a little bit last week and will be ready.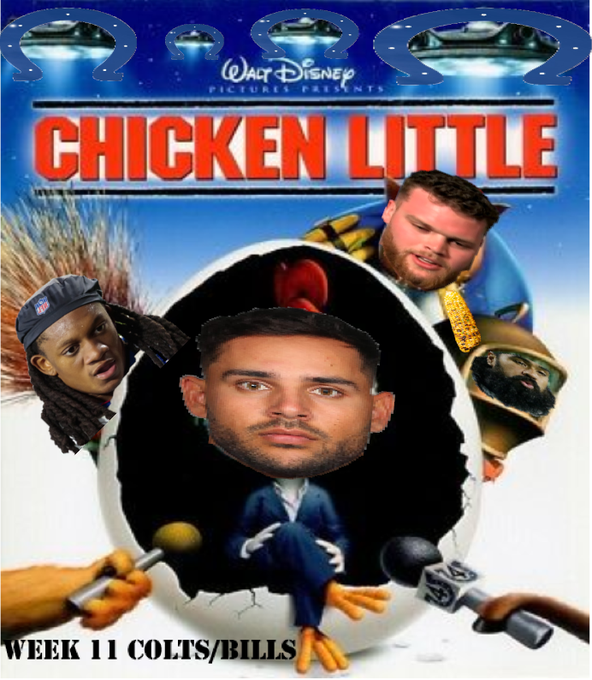 To quote Steven Tyler: If Chicken Little tells you that the sky is falling, even if it wasn't would you still come crawling back my friends? I bet you would again and again and again...Go Bills!
The 2¢ Report
It took a few injuries last week for me to see some of my favorite players get some game time action - and the three B's all contributed - Breida, oBada, and Bashem. What did Bashem do, you ask? With 1 solo tackle, 2 combined tackle and 1 tackle for a loss, he all but matched Vernon Butler's seasonal output of 2 solo tackles, 1 combined tackle and 1 QB hit. I hope Sean McDermott noticed.
There were a lot of penalties last week -- but I didn't really notice them
Remember the internet before apps and smartphones? About ten years ago or so, back when we were still myspacing I would go to theredzone.org for a lot for my football fix. The site was primitive, but kept a daily log of all the local newspaper sports articles for all 32 teams, it was really good to see how the local media views their teams. The other day, on a whim, I went there, and it hasn't changed at all. Nice little site and definitely worth checking out. Monday's are the best because you can read team grades/report cards, always one of my favorites.
We have 2 football games this week. The next Predict the Score! will probably drop on Monday before the big fall family holiday.
Remember, the light at the end of the tunnel may be you.
Wall of Winners:
Week 1: hockey-time
Week 2: DontBeThatGuy
Week 3: Covid20
Week 4: 27vanclan49
Week 5: Here's hoping
Week 6: FlutieFlake
Week 7: Bye
Week 8: OldFatSlowRefs /\ Fansincebeginning /\ orangebills70
Week 9: Veterans
Week 10: DigitalDreamer
Have a great weekend and happy prognosticating!!