I love playoff football. Last week(end) we watched the Vikings and the Chargers get upset and technically the Bucs got upset as the higher seeded team in the game, but who are we kidding, they were the best of the worst division in football. The Bills did what they were supposed to do, win at home. Was it pretty at all times? I don't know, beauty is in the eye of the beholder. NoiseIsTheBestRevenge probably thought the game was very beautiful because the final score was six off of their guess and good enough for making the Wall of Winners! Congrats. I have a few people in my life that I wouldn't mind exacting revenge on, can you go to their dwellings and make a loud noise for me? That would be the best. Podunkowego almost tied for the best score to earn a second nod on the wall but two things worked against him in this one. First off, he left two scores in his post with an impossible to judge (for me) reason to pick one over the other. Second, even if I had gone with the better score, it would have tied with NoiseIsTheBestRevenge for six points away, yet NoiseIsTheBestRevenge gets the tie-breaker for guessing the correct winning score (their guess was 34-25). So let this all be a lesson for you, I allow multiple score predictions if there's a good and simple reason for them (e.g. Tua's not playing), so if asked to pick a score to clarify, don't forget to come back and clear up your choice. OK, moving on, Congrats NoiseIsTheBestRevenge for your great prognostication! The unduplicated streak of names on the Wall of Winners is still intact this year! Crazy. Your user name is surprisingly long.


Created for free @ fwriter.com
Playoffs: Divisional Round; Bengals V Bills It's all moot, Cincy never got the chance to get a better record than Buffalo and sits at #3 in the playoffs, meaning they have to travel to Orchard Park to face the Bills at home. I haven't checked the weather, but I'm sure it's forecasted to be cold. OK, I just checked, there might be snow, but the weather will remain about the same as it was for the Wild Card game. The Bills are a 4.5 point favorite and the over/under is a healthy 50 points.
Bills 35, Bengals 28 OK, answer this, why are the Bills talked about as being lucky to escape last weekend with a win and the Bengals, who returned a fumble 98-yards, are being talked about in the media as a more complete team ready to blow past Buffalo? Does 7-3 halfway through the first really sway the talking heads that much? Because the Bengals were also lucky to escape Super Wild Card Weekend, by my watch, taking at least a 10 point swing late in a game decided by a TD. Playoff Gabe Davis has another game over 100 yards and multiple TDs, while Dawson Knox continues his late season surge. Some perfectly thrown JA17 passes are actually going to be catches instead of "just barely hit the ground there" and the Bills are going to reverse some of their misfortunes from last week.
Hype Poster: JA17 buys the whole cincy zoo and puts the old tiger out of its misery in this one. Yes, I used Beasley there because he's short. Cook and Davis and Beas are all close to each other while Tre White and DaQuan Jones make solid contributions this game.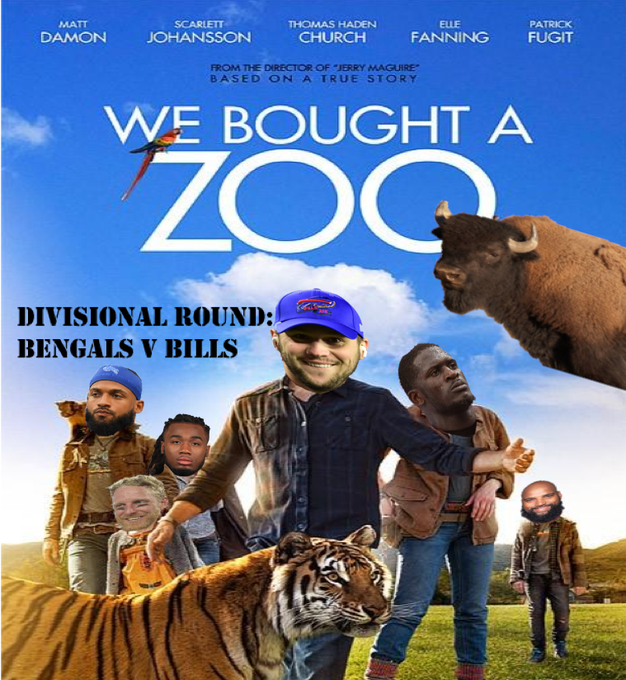 Well, that's how I think it unfolds, let's hear from y'all. Happy Prognosticating!
WALL OF WINNERS:
Week 1: Dingusday /// Houston Bills Fan
Week 2: podunkowego
Week 3: Knot Mei
Week 4: mikeyg
Week 5: jg funk // Don'tBeThatGuy
Week 6: thegunk
Week 7: BYE
Week 8: WilliamShatnersPants
Week 9: Covid20
Week 10: Fatso McGraw
Week 11: NoSB.yet
Week 12: 716Bison
Week 13: MightyOak2020
Week 14: Buffalove86
Week 15: Ron from NM
Week 16: Mstockw1
Week 17: Honorary: Damar Hamlin
Week 18: CS in Alabama
Super Wild Card Weekend: NoiseIsTheBestRevenge