I'll keep this brief today. Nobody needs to read my brand of wit/humor when the 2023 season is crashing all around us. Crashing into an iceberg and about to sink. Houston Bills Fan won last week with his depressing guess of the Broncos edging out the Bills. Which they (the Broncos) did. Josh is not right, the team is not right, the coaches are not right, nothing's right. Except Dalton Kincaid. That was a good pick. Houston has a graffiti park, which is where the inspiration for this week's wall comes from. Congrats Houston Bills Fan. Enjoy your tag.

Week 11, Jets v. Bills: The Jets face the Bills this Sunday late afternoon, in only what can be described as the game of the year. Don't miss this one Bills fans, it's gonna be really good. Why does Vegas keep thinking the Bills are a good team this year? They are a 7-point favorite with an O/U of 40.5 points.
Bills 12, Jets 11: Yeah, 4 FG's takes this one as the Bills score all 12 points in the 4th quarter. The game is riveting. Like watching paint dry. Nothing clicks on offense. The defense comes up woefully short, again, on defense like 10 times, where a sack doesn't occur, a pick doesn't happen and a tackle is missed.
Hype Poster: Ok. I'm going to probably change the name to current mood poster, 'cause I'm not hyped for this one and the poster doesn't really hype me up either, but Titanic was a perfect suggestion to reflect on how the season is going. There's no room on the door, Dorsey. I mean, there totally is, but we'll let you sink away in the freezing cold ocean anyway.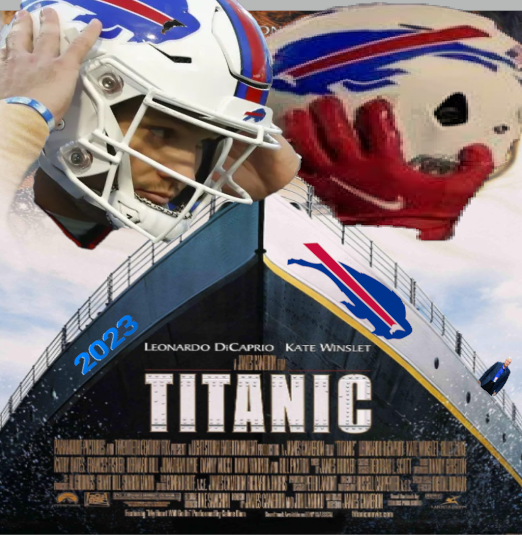 This week, I doubt that there is much happy prognotsicating!
Wall of Winners:
Week 1: Brian987 // Overdue bills
Week 2: ParzLou
Week 3: Mstockw1
Week 4: OldFatSlowRefs
Week 5: Don Fredo
Week 6: WilliamShatnersPants
Week 7: Don Fredo
Week 8: WilliamShatnersPants // Brian987 //MightOak2020
Week 9: Covid-20
Week 10: Houston Bills Fan