Week one! Like always, the off-season seemed too long, and I'm excited for the start of football again. Thanks to everyone who is willing to play this weekly contest where we guess the scores and have a little irreverent fun while we're at it. Welcome all, rookies and veterans of this post! If you need a recap on how I score things, go back, and look at last years thread. I'll wait. You can read this at your leisure, I don't have to stall while you learn if your 33-0 prediction is a winner against an actual score of 17-16 (probably not). Oh, here is the link for any of you who don't want to take the time to learn how the internet works… Last year's initial post. Read through that post if you want to learn how you will be honored as the winner for the week as well. This year I've been looking through a crystal ball to help with all my prognostications, I can only see a smaller image of me upside down, but whatevers, the magic 8-ball in my head is predicting another perfect regular season! 17-0. Impossible? There's a reason (or several) why perfect regular seasons so rarely occur you say? Well like one of those Corey's said, "This (is) my dream, my wish, and it … come true". Missing words and grammar aside, what he meant is that the Bill's are going to do it this season! Trust me, I've seen that flick like 100 times. Hey you guys! It's not too late to jump on the Wagon, there's tons of room.
Week 1: Jets v Bills: The biggest change to this post from the past is that this year I will always post the Bills as the second team regardless of who is hosting. And this year, the first game of the Bill's season is down in New Jersey, against the revamped Jets. Will the newcomers, Randall Cobb and Mecole Hardman be the difference makers for this team? The Jets sure hope so. Insert your own Hardman joke, I'm sure it's original and funny, and won't come off stiff or wooden.
Bills 37, Jets 27: The first Bills game of the season on Monday Night looks to be a high-scoring affair, with the Bills coming in for the soft-landing, winning by a comfortable ten points. Although at the half, it doesn't look like it is going our way. There're multiple heroes for this game, nobody will agree what the play of the game is in Skarecrow's season/game-by-game recap. But for me, it will be Matt Milano's third quarter interception- and this pick of destiny will help catapult us to victory. Allen shows all that he is the best current QB in the AFC East.
HYPE POSTER: Yep, because I hate too much plain text and white space, I have brought back the hype poster. Every week, I will think of a movie poster that makes sense (to me) for fitting in either as a theme for the Bills or a celebration of day/season, and Bills it up. I create them in MSPaint 3D and post them on Twitter a day or two ahead of the actual post. Why do that? This site will only import pictures that have an internet address, and this is my work-around. If you want a preview every week, follow my Twitter handle.
@ChuckWa49577086
I made the comment early in the off-season that Tenacious D: The Pick of Destiny was a very deserving football name, and now with the McD takeover, one hopes that our own tenacious D shines. So, while this is not the greatest hype poster in the world, it is a tribute to the team's defense and as predicted, I am including Milano here who I think will have an historic interception. Not quite a pick-6 but Cook will take it in from the 6 on the next play. Enjoy those buffalo clouds!
Don't be shy, if you think you have a perfect movie/movie poster in mind, let me know!
Wall of Fame: The second biggest change from last year is I am creating a wall every week. Oh, I already did that? Well, this year I am creating each wall-tag from scratch, in MSPaint 3D and not using Graffwriter.com and their wonderful fonts and presets. This will give the Wall a different look every week, and I'll be able to have more control on the overall feel and add some artistic flair to it. Here is one example (I just used mstockw1 as an example, he didn't win week 0). If you like this change, let me know in the comments. If you hate it, sorry, I'm still going forward with it for this year. Much love to graffwriter.com, but I can't rely on them forever.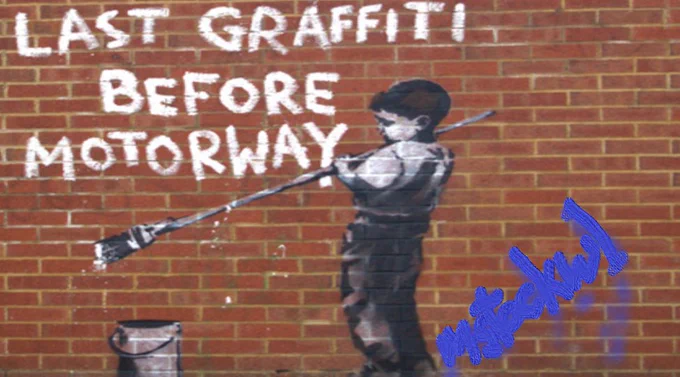 (sorry Banksy, mstockw1 is the last graffiti before the motorway now)
Dang Chuck-Wagon, this post is stupidly long, and you didn't even write the rules of the contest out, won't you just write your stupid happy prognosticating! calling card and end it already?